SP-S40 Stainless Steel BBQ Grill Roaster Electric Motor Goat Pig Chicken BBQ Spit Rotisserie Roaster Outdoor Barbecue Accessories(220V-240V)
1、Product Certification: CE SAA.This Stainless Steel Rotisserie BBQ Spit 220V Motor 70kgF.cm Capacity is far superior than standard battery operated BBQ motors
2、 Material:stainless steel Motor Power:15W Torque:60KGS Made of stainless steel, durable and not easy to rust.
3、Automatically rotate the motor, and install it freely.Product dimensions: 17*9.5*10.5cm.
4、It is loved by people as it allows you to turn up to 70kgF.cm of meat.
5、Wide range of uses: When using this motor,pls use over open fire, charcoal bed or barbeque grill.Can be used for outdoor travel, party activities, family barbecue, free hands, and enjoy leisure and entertainment.
Product description
Create your own hog roasting station with an electric rotisserie motor.
Slow roast all kinds of meat to perfection with the 70kg capacity; just imagine lamb, chicken, fish or whole hog.
Simply attach your own 2.5cm spit to the shaft at the front to start cooking.
✔Features
Electric spit rotisserie motor
Stainless steel casing
1.2m long cable
Perfect for building a DIY hog roast barbecue which is perfect for catering events or hosting parties at home.
✔Specification:
Model: SP-S40
Voltage: 220-240V/50Hz
Power: 15W
Product Certification: CE SAA
Color: Silver
Capacity: 70kg
Cable: 1.2m
Package size: 11.5 (length) × 4.53 (width) × 8.26 (height) inches
Packing weight: 2kg
✔Package:
1 * Electric Motor
1 * English Manual
1 * Power Cable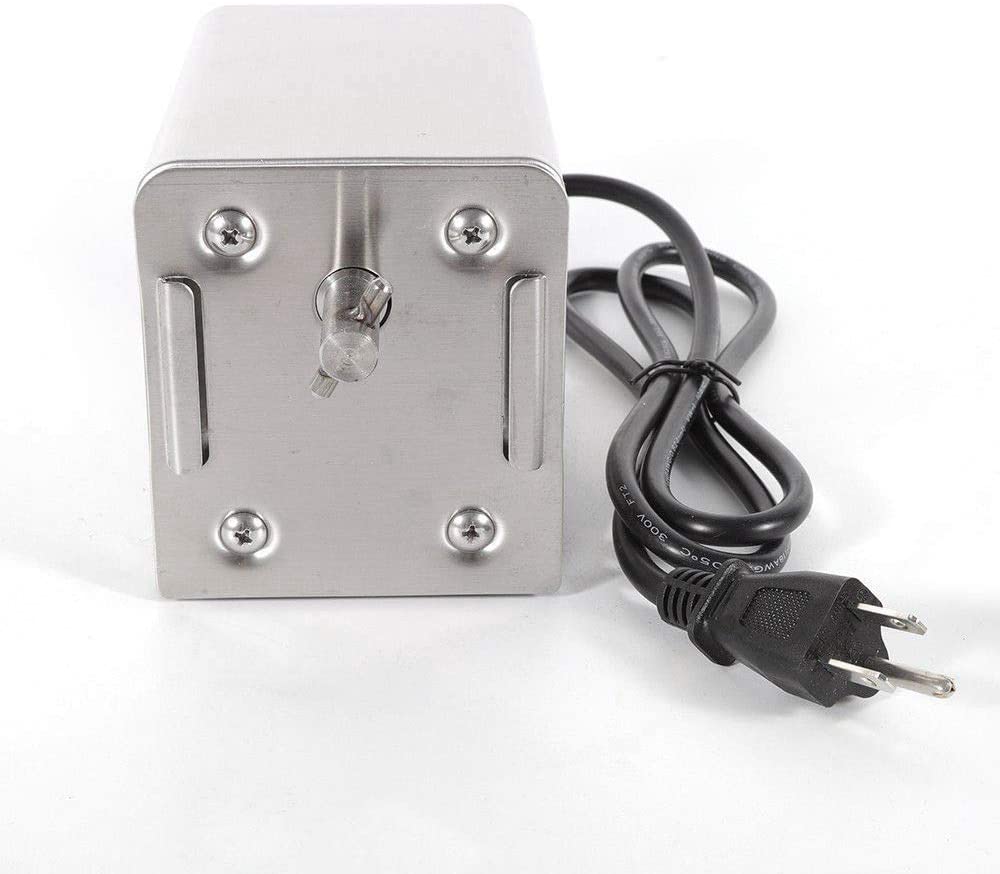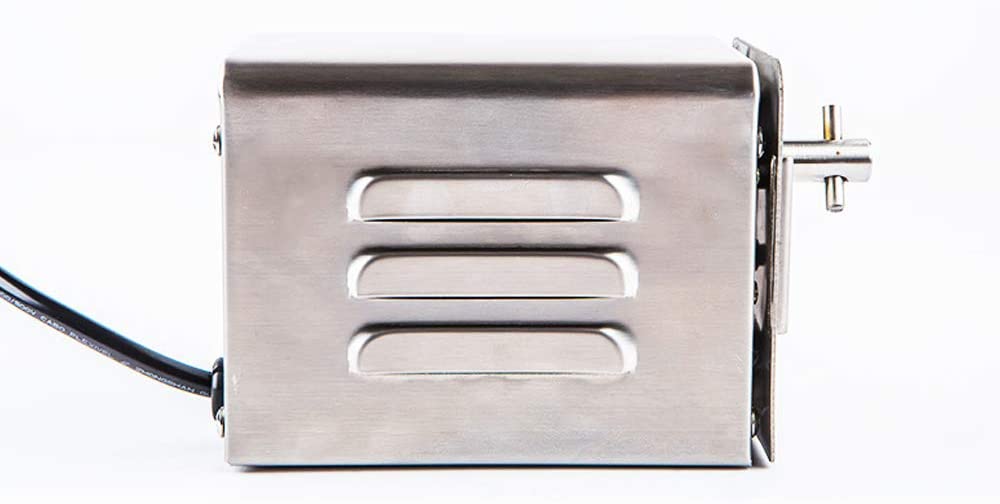 BBQ Electric Rotisserie Kit Automatic 15W Universal Rotisserie Kit Outdoor Large Grill Rotisserie Spit Roaster Rod

1.Stainless 1.Steel frame, well welding, rust resistance, stable and durable in any condition.
2.Steel tripod with a load capacity up to 66 lb(30 kg), 8 tier cooking height adjustment available.
3.The 15W 50-70KGF.CM electric motor has excellent carrying capacity and high efficiency, Includes 2 skewers, 2 meat forks to attach the chickens, a balance kit, etc.
4.Easy to operate, One end is designed to fit in the engine, and the other end is equipped with a handle suitable for most grills.
5.For roasting ham, brisket, and whole chickens, hog, goat, lamb, turkey, etc.
6.It's ideal for roasting your "catch of the day" while you're camping, fishing or hunting, can feast on rotisserie-cooked food whenever and wherever you get the hankering.
Parameter:
Material: Stainless Steel
Color: Silver
Voltage: 110V
Motor Power: 15W, 50-70KGF.CM
Maximum Load: 30Kg
Spit Length: 130 cm(51″)
Adjustment Heights: 15″, 17″, 19″, 22″, 24″,(38CM,44CM,50CM,56CM,62CM )
1. Please read the operating instructions carefully before use.
2. Make sure the grilling motor is turned on After the roast baby sheep are fixed.
3. When grilling, please keep the fire away from the grill motor.
4. When grilling, do not touch the roasters or meat support bar directly with your hands, to prevent scalding.
5. Do not use the oven on rainy days or allow water to come into contact with the motor during use.
Package Included:
2 X Stainless Steel Skewer
2 X Motor Support Plate
1 X Stainless Steel Rod Roast
2 X Stainless Steel Grilled Fork
2 X Stainless Steel Support Feet
1 X Motor(15W)
2 X Barbecue Fixing Bracket
8 X Screws And Nuts
2 X Tools
1 X English Instruction